Regarded as one of the top college arenas in the nation since opening its doors in 1969, the Jon M. Huntsman Center has provided an imposing home advantage for Utah teams the past 45 years.
A landmark on the U. campus, the Jon M. Huntsman Center is the perfect place to watch a sporting event. With 15,000 chair seats, 8,000 for women's basketball, assuring a great view from anywhere in the arena, the Huntsman Center is the largest venue in the Pac-12 Conference.
The Huntsman Center underwent a $6 million renovation in the summer of 2014. The original ceiling cloud was replaced with a super grid structure. Energy efficient LED arena lighting, which accommodates instant on and off, was installed. A new state-of-the-art sound system and ceiling mounted sound panels provide greater clarity.
The project also included a draping system, offering a more intimate setting in the arena's lower bowl for smaller events. New banners were hung to honor Utah's all-time greatest teams and retired jerseys, and a maple wood floor was installed with an updated graphics and color scheme. New LED concourse lighting has been put in and the walls of the lower bowl were wrapped with new graphics.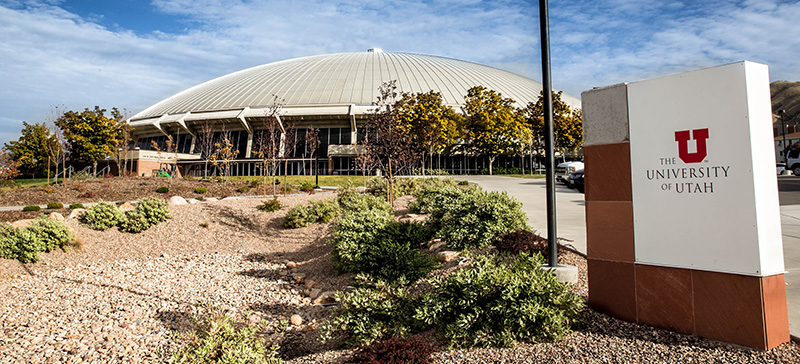 A $1.3 million center-hung video board and scoreboard was installed in the fall of 2007. It features an LED ring by Optotech and four LCD video screens. The locker rooms have also been renovated in recent years, funded in part by donations from former Ute basketball All-Americans Andrew Bogut and Andre Miller totaling $325,000.
Underground tunnels stretching 2,220 feet connect the arena with the four-building HPER complex, which is undergoing a renovation. The $36 million project includes the new Jon M. and Karen Huntsman Basketball Center, which will house the men's and women's basketball programs, and the Sorenson Legacy Foundation High Performance Center, a state-of-the-art sports medicine and strength & conditioning facility.