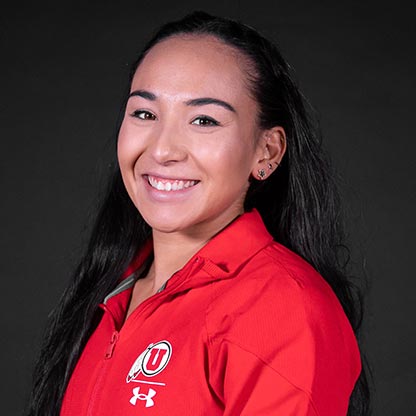 Year at Utah: 1st
Coaching Timeline
2021-Present: Utah
2019-2021: Georgia Elite Gymnastics J.O. Optional Coach
2014-2021: USAG J.O. Program Choreographer

Education
LSU, 2018
Bachelor's in Mass Communication: Journalism

LSU, 2021
Master's in Sports Management
Myia Hambrick
Volunteer Assistant Coach
Myia Hambrick enters her first season with the Utah gymnastics program in 2021-22 after being added on the coaching staff as a volunteer assistant coach in June of 2021. The former LSU standout gymnast will assist in coaching floor, while choreograph routines for the Red Rocks.
Following her collegiate career at LSU, Hambrick served as a Junior Olympic Optional Coach at Georgia Elite Gymnastics. She has coached gymnasts of all levels during her time at Georgia Elite Gymnastics and has mentored four 2019 Junior Olympic Championship qualifiers, a 2021 Nastia Liukin Cup qualifier and numerous 2021 regional qualifiers. Along with her time at the club gym, Hambrick has also worked with optional gymnasts across the country since 2014 where she has choreographed routines and cut music for the athletes.
Hambrick collected 20 All-American honors, which is the second most in program history, during her time at LSU. She earned All-SEC honors all four seasons and ended her career in the top-10 of LSU's career wins on vault, floor and in the all-around. She amassed 52 career wins, and was the 2015 SEC vault champion and the 2016 NCAA Athens Regional all-around champion.
As a senior in 2018, Hambrick was an AAI Award Finalist, the NCAA Raleigh Regional all-around champion, an All-SEC selection and an eight-time All-American. Hambrick was tied for No. 1 in the nation on floor at the end of the regular season as a senior, No. 6 on beam, No. 7 in the all-around, and No. 13 on vault and bars to cap off a tremendous career.
Hambrick graduated with a bachelor's degree in mass communication with an emphasis in journalism from LSU in 2018, while she earned her master's degree in sports management in 2021. She was a NACGC/W Scholastic All-American during her career and four-time SEC Academic Honor Roll honoree.